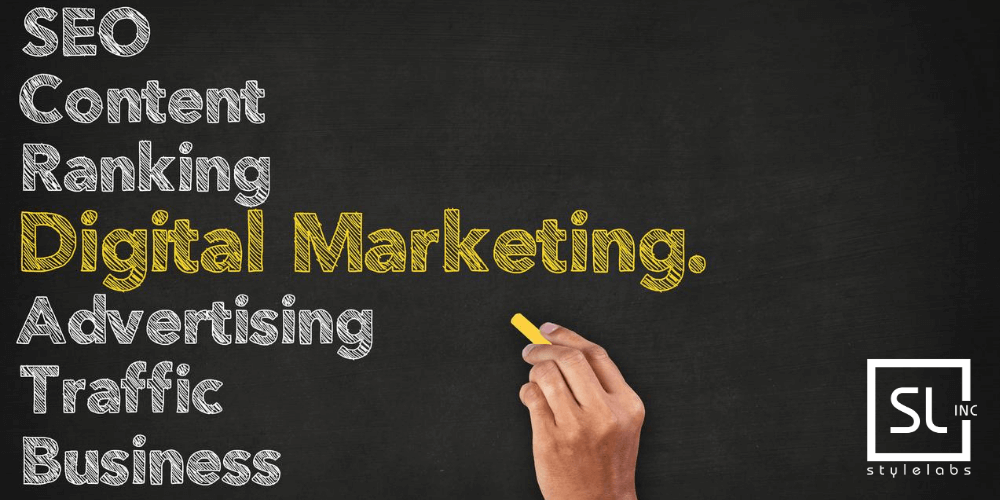 In 2020, and beyond, Digital Marketing has quickly become the most effective way to reach potential consumers, build brand awareness, and ultimately close more deals and/or sell more products in your Small Business.
Follow along as we share not only WHAT Digital Marketing is, but the WHY use it, HOW to do it and WHO to help you grow your business.
WHAT IS DIGITAL MARKETING: AN EXPLANATION
So, let's start by defining exactly what traditional and Digital Marketing is before we look at the differentiating factors.
Traditional Marketing refers to traditional media such as television, radio and print ads. Other types of traditional Marketing you might see are billboards, bus benches and printed posters.
Digital Marketing refers to delivering your Marketing message through digital mediums such as Websites + SEO, Google Ads + SEM, and Social Media to name a few.
You have the WHAT, so next up we will dive into the WHY, HOW, and WHO of Digital Marketing.
WHY DIGITAL MARKETING FOR YOUR SMALL BUSINESS
Implementing a Digital Marketing Strategy can benefit your business greatly. These platforms can become a huge asset in your small business and more and more entrepreneurs are integrating Digital Strategy into their marketing and advertising.
Some pros to opting for Digital Marketing are:
It is affordable
When implemented correctly your return on Investment is high
It increases brand awareness
It can bring more revenue into your business
HOW TO USE DIGITAL MARKETING IN YOUR SMALL BUSINESS
Website + Search Engine Optimization
Your Website should be the hub of your business. An effective Website and SEO strategy will drive potential customers to your Small Business. SEO, when done correctly, will ensure that you can be found by intenders when they need to find you, and also with information relevant to their needs.
Google Ads + SEM
Creating Google Ads will allow you to drive more traffic to a specific product or service within your business. The best part about Digital Advertising is you can track your results, and make small pivots if necessary. Traditional Marketing is much more difficult to track and cannot be changed as easily.
Social Media
Using Social Media platforms such as Facebook, Instagram and LinkedIn can help you to grow your brand awareness and increase your Digital Footprint. Many prospective customers will look into your full ecosystem (Google Reviews, Social media and Website) before deciding to make a purchase from you.
Social Media organic posts, and paid ads, can be used to drive traffic to your website and bring more revenue into your small business.
Email Marketing
Email Marketing is a great way to keep your brand top of mind, and allow your leads to saving pertinent information about your products and services in their inbox until they are ready to read it. Another benefit of Email Marketing is you can track bounce rates, and click-throughs, which allows you to follow up with customers who are looking into making a purchase from you.

StyleLabs is a Digital Marketing company that specializes in Website Design, SEO, and Digital Strategy. With a strong background in Market Research combined with our cutting-edge technology, we've been able to rank over 90% of our clients on the 1st page of Google for over 10 keywords. Serving Small Businesses in Airdrie, AB, and surrounding areas for over a decade.
REACH OUT! WE'VE GOT YOUR BACK!
At StyleLabs our team has the experience, the resources, and the passion to help you and your business get the edge it deserves. Contact our team today to book your free consultation!
You can reach out to our team by filling out our contact form below or calling us directly at 1-587-880-3358, or by filling out a Know My Prospect form to jump ahead of the line.